Jurassic World: Dominion Dominates Fandom Wikis - The Loop
Play Sound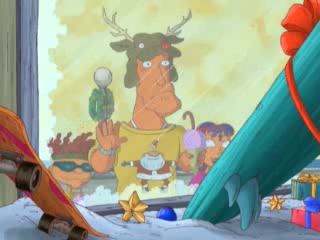 A Rocket X-Mas is a full half hour episode of Rocket Power which aired on Nickelodeon during the 2003 season.
Following Twister's lead, Reggie and Otto decide to offer a dog walking service over the holidays, to earn money to get a special gift for Raymundo. The endeavor turns out to be so lucrative that it monopolizes all their free time, and keeps them away from their dad, who's obsessed with maintaining his (quirky) holiday traditions. Ray gets angry when his kids show no interest in the entertainments and decorating activities he's planned with such effort. Ultimately however, all realize that Christmas isn't all about gifts or giving or even traditions: it's about being with those you care about.
Home Media
DVD
iTunes
Additional
There's an amusing side plot concerning Tito's candidacy for the town Santa Claus--and he ends up succeeding, in more ways than one.
Danielle's Legacy

The background and status of Reggie and Otto's mom is briefly discussed here, but not her name or appearance. Raymundo describes her in past tense, and gives Reggie and Otto mementos of her, a Spanish gold coin she had recovered from off the coast of Barbados and a music box that she had won in a women's surfing tournament.
Notes
There's a kind of inside joke aimed at the Christmas special genre in this story where the Rocket sibs poke fun at a Christmas special. However, in a later scene while performing their dogwalking duties they feel pangs of homesickness while passing the front window of a house where they see a family enjoying quality time in their living room, viewing a replay of that same program.
This article includes content originally developed for an article on this subject at the Christmas Specials Wiki.