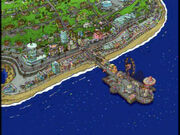 Ocean Shores, the main setting of Rocket Power, is a medium size city along the coast of Southern California. Their city is a nod to a mash-up of various beach cities in SoCal such as: Redondo Beach located in SoCal's South Bay, Long Beach located in South Bay, Huntington Beach located in Orange County, Zuma Beach located in Malibu and Laguna Beach located in Orange County. The pier is clearly based on Santa Monica Pier, but has elements of Newport Beach's harbor. The residential area homes are reminiscent of those found in Orange County's beach town of San Clemente. There are episodes that take place in Hawaii as well.
The layout of the city is based on most southern California cities, and the architectural styles of its downtown buildings are based on some landmarks in Los Angeles, such as the one round high-rise building with a spire, which is the tallest building in Ocean Shores is based off the Capital Records Tower in Hollywood, Los Angeles.
Ocean Shores celebrates its Founders Day on April 1st.
Early promotional material about Rocket Power hosted on the Nickelodeon website situated the world of Rocket Power in a venue called "Ocean Park" - which is a real place in West LA near the beach towns of Santa Monica and Venice Beach.
Economy
Like many towns in Southern California, Ocean Shores generates significant income from its beachfront. The town's largest public asset is its pier with many stores, restaurants and an amusement park (Dream Park). Local residents and out of town tourists (often unfortunately shoobies) flock to the beach every summer.
Ocean shores is shown to have several high rise office buildings. The city has at least one oil well, a common site in the Los Angeles suburban area. The town has a dump for local waste disposal. Ocean Shores also has a port for small to medium sized maritime vessels, similar to Long Beach or Newport. Ocean shores is located near a major airport, likely Los Angeles International, with flights to New Zealand and Hawaii.
While Ocean Shores is largely comprised of middle class residents who have lived in the area for many years, recently more wealthy residents (or as Otto refers to them as snobs and rich shoobies) have begun to move in, albeit choosing to live in upscale communities some distance from the Beach such as Ocean Shores Bluffs.
Location of Ocean Shores
It's worth noting that there is actually a city of Ocean Shores located in the State of Washington, though it is located several hundred miles north of the location usually assigned to its cartoon namesake. The city of Ocean Shores, though, is also located on the West Coast, and faces the same Pacific Ocean as that washing the shores of sunny SoCal. The city of Ocean Shores could possibly be a medium-sized suburb of the Los Angeles metropolitan area, located in either Orange County or western Los Angeles County west of the town of Malibu.