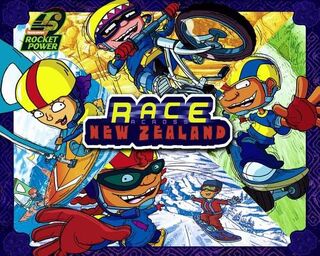 Race Across New Zealand
was the first of three telefilms made for the
Rocket Power
cartoon series, first transmitted on Nickelodeon in the US on 16 Feb 2002, during the 2002 Winter Olympics. The plotline entails the Rocket Power gang's trip to New Zealand to participate in "The Junior Waikikamukau Games", with
Otto Rocket
competing against
the son
of
an athlete
who once beat his father Ray at a race in New Zealand (allegedly by cheating), and his sister Reggie's attempts to get herself noticed by Ray, who is constantly cheering for Otto exclusively.
Sports featured in this telefilm include zorbing, mountain biking, tubing, dirtboarding, windsurfing, and snowboarding.
Production and marketing
Some fans have opined that Race Across New Zealand might have been considered for theatrical release as a feature film, given that the animation process involved finer "pencil" outlines than had been used in other episodes, as well as striking scenery delivered with vivid colors. There are also some short pans that seem to suggest that RANZ might have been produced in 16:9 (likelier at the time to be encountered on a movie screen) instead of the 4:3 ratio supported by most television sets at that time.
In the same month the telefilm was premiered, a soundtrack album for Rocket Power was released, featuring the songs that appeared in the telefilm. Besides the show's theme song, the album featured:
"Individuality" by Area-7
an English language cover of "99 Luftballons"("99 Red Balloons") by the band Goldfinger
"Valentino" by Bowling For Soup (who had previously performed the theme song to Jimmy Neutron: Boy Genius for the film's soundtrack album)
"I'm Cool" by Reel Big Fish
External link
A transcript of the telefilm, from the Maximum Rocket Power website